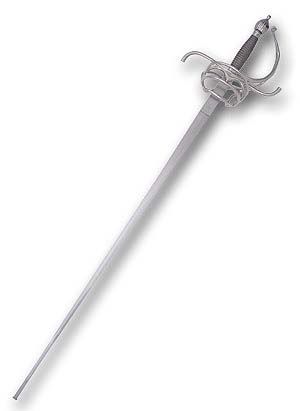 Well, I'm at ,y little sister's place. Her two kids want to give me a birthday party and I could not let them down. In fact I am on my little sister's Apple making this post. For the record I am 39 years ooold today. I did get lucky today My rapier blade came in before I set out to my sister's place. Before I can take it on the field I have to get a safety tip for it. That is so I don't gut someone out. That would be a bad thing. In fact we have a saying that goes "We are here to kill our friends not to hurt them" In fact with out the safety tip I can punch the blade through 1/4 plywood with just a little effort. The cool thing is that there is something called a bird blunt for arrows that is the same thing as the safety tip for the rapier but cost about $10 for a pack of 4 while the safety tips for the rapiers cost about $7 a pop.

The only difference between this blade and a live steel rapier is that this blade does not have a sharp edge or fine point on it. It allows a person to train and get the feel for the use of the weapon with little danger to the people training with the weapon. In time I hope to post images of me fighting,


In other good news Amber and I talking with each other once again, Even through she is my Ex-wife is nice to be on good terms with her. All in all she is a good person, and I am not always the person I should be. I am looking forward to long and good friendship with her. Also cordial and conjugal have to different meanings :-)


Now on to something to think about:

Art or not art? Let me know what you think.